Contracting & tendering can be a potential minefield if it is not the right fit for your business or if you aren't properly prepared for what's involved. When it comes to turnarounds, the landscape becomes even more strenuous. There is a wide array of choices in tendering & contract management that can be made long before the turnaround event, all having a large influence on the turnaround itself.
Key issues in contracting
1. Exploring the market to hire contractors for your shutdowns and turnarounds?
For all disciplines, sites have one or more maintenance contractors. Under the conditions of the maintenance contract or separately agreed upon turnarounds conditions, the maintenance contractor can be directly chosen to execute all works. This depends on the availability of resources of the maintenance contractor(s), but also the internal policy of your company. Most companies require that above a certain contract value, the contract is separately awarded.
One of the major benefits of this approach is that the contractor knows the site very well, which can help tremendously during a turnaround. Site personnel is also acquainted with the contractor's personnel.
Downsides include the fact that when your turnaround does not go that well, the relationship with your maintenance contractor will turn sour. You will also miss out on the opportunity to go to the market and find a good contract for your turnaround.
2. Type of contract: Reimbursable, Unit rates, or a Lump sum?
Once you decide to explore the market, the next step is to define what type of contract you will put out there. This decision varies per discipline but also differs largely on the availability of resources and the local economy.
Typically, contracts tend to be reimbursable due to their low complexity in largely unpredictable disciplines such as cleaning, disciplines with large equipment like heavy lifting, and in countries with lower wages. Depending on the predictability of the turnaround, the mechanical contract can be reimbursable as well.
However, a disadvantage of reimbursable contracts is that, when you do not have enough control in place, a contractor might bring too much staff on-site than necessary. When dealing with more predictable work, but a yet undefined scope, a unit rate contract is a good solution.
In a unit rate contract, all possible activities are already priced. The total price for a certain work is the sum of the prices of all the activities that are included. All the activities have to be standardised and predictable. This is usually the case with disciplines such as piping/mechanical, scaffolding, insulation and painting. It can be beneficial if your organization is ready for a high level of control because of the nature of such a contract.
If there is an isolated part of work which is very predictable, you can also go for a lump sum contract. This work is not influenced by the rest of the progress of the turnaround. An example of this situation is catalyst exchange which is observed while charging and discharging reactors.
3. How to create a level playing field?
When going out to the market, you need to keep in mind that during the end of the tendering process, you will compare all contractors. Creating a level playing field is very important when making such a comparison. This ensures that all contractors bid on the same scope and provide you with the same details.
This can be ensured by providing the same bid sheets, but also by providing a reference scope, which reflects the probable scope of the upcoming turnaround. By applying the bid made by all separate contractors on the reference scope, you will get a fair comparison of all bids created.
Concluding
Various important decisions have to be made when contracting for turnarounds. Maintenance contractors can do part of the turnaround, but you might also need to hire contractors for your turnarounds. First, you define which contractors you will tender and what kind of contract you will put out there. Then it is equally important to create a playing field as level as possible, to be able to make a fair comparison in the end.
---
Turnaround Tendering
Cleopatra Enterprise Software
Choose the best contractors with the right bid evaluation solution of Cleopatra Enterprise software.
Learn More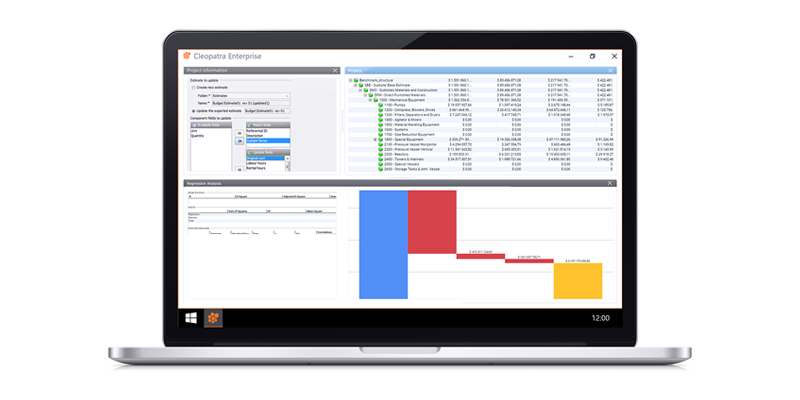 Turnaround Contract Management
Reduce risk and schedule delays with a detailed contracting strategy applied through Cleopatra Enterprise.
Learn More